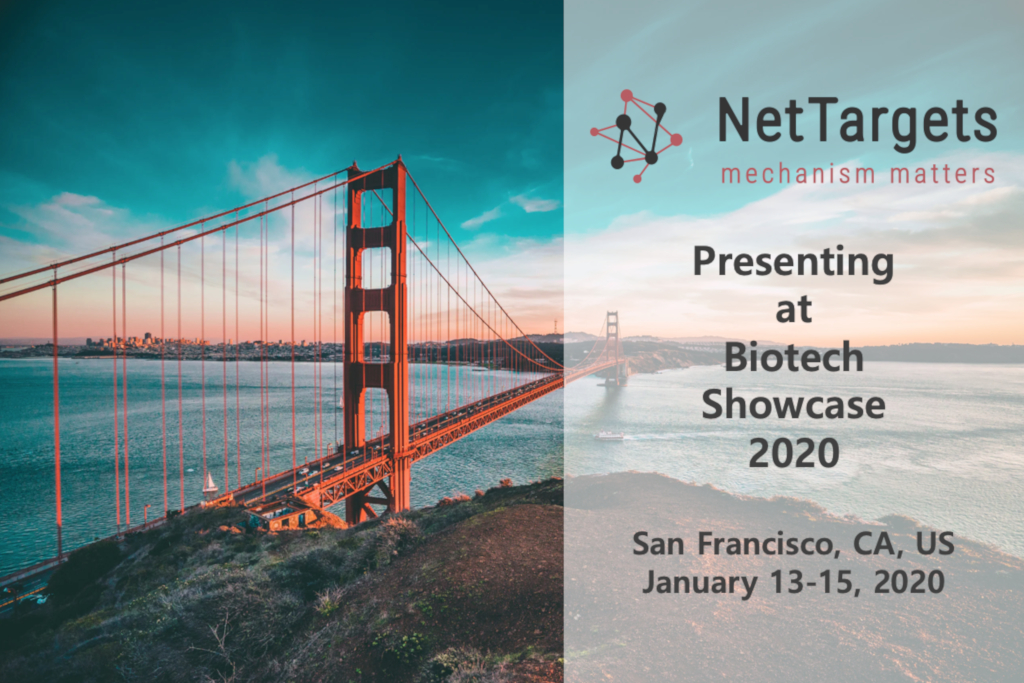 NetTargets announced that it has scheduled a company presentation at Biotech Showcase™ 2020, to be held January 13–15, during the most important week in healthcare at the Hilton San Francisco Union Square.
NetTargets will be presenting at Biotech Showcase as follows:
Date: Tuesday, January 14, 2020
Time: 2:45 p.m. (PST)
Room: Franciscan B (Ballroom Level)
Venue: Hilton San Francisco Union Square Hotel, 333 O'Farrell Street, San Francisco, CA (United States)
NetTargets' management will host one-on-one meetings with investors in San Francisco from January 13-15, 2020, and the follow-up after the conference. To contact NetTargets' delegates at this conference, please contact us at: jongho.baek@net-targets.com
Biotech Showcase, produced by Demy-Colton and EBD Group, is an investor conference focused on driving advances in therapeutic development by providing a sophisticated networking platform for executives and investors that fosters investment and partnership opportunities. The conference takes place each year during the course of one of the industry's largest gatherings and busiest weeks. "We are delighted that NetTargets will be presenting at Biotech Showcase this year," said Sara Demy, CEO of Demy-Colton. "Biotech Showcase is a prime occasion for life science entrepreneurs and investors to come together to discover the potential of innovative technologies that will drive the future of drug discovery."
ABOUT Biotech showcase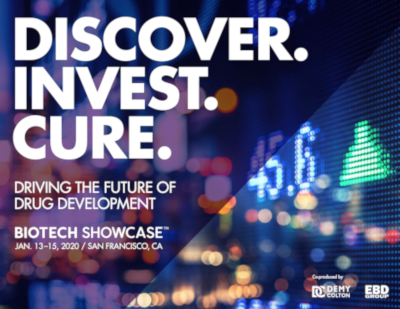 Biotech Showcase is an investor and networking conference devoted to providing private and public biotechnology and life sciences companies with an opportunity to present to, and meet with, investors and pharmaceutical executives in one place. Investors and biopharmaceutical executives from around the world gather in San Francisco during this bellwether week which sets the tone for the coming year. Now in its 12th year, this well-established, highly respected conference features multiple tracks of presenting companies, plenary sessions, workshops, networking, and an opportunity to schedule one-to-one meetings. Biotech Showcase is produced by Demy-Colton and EBD Group. Both organizations have a long history of producing high-quality programs that support the biotechnology and broader life sciences industry.
ABOUT NetTargets
South Korea-based KAIST spinout startup, NetTargets is developing two high-performance drug development platforms, mechanism analysis platform (N-MAP) and compound analysis platform (N-CAP) on the basis of artificial intelligence (AI)-enhanced systems biology. The company is established on over-20-year research in systems biology (http://sbie.kaist.ac.kr). Using their strong expertise to integrate mathematical modeling, computer simulations, and biological experiments, NetTargets provides a clear understanding of dynamic interactions among multiple components of a biological system and the behavior of the system as a whole. The mechanism analysis platform N-MAP is aimed at clarifying the drug-disease mechanism by decoding bio-complexity to unravel therapeutic strategies, and N-CAP facilitates drug candidate validation, reverse analysis to check off-target effects in the mechanism, and promising drug candidate synthesis.
The company launched in August 2019 with not only the AI-enhanced system biological expertise but also several very promising novel targets for solid cancers transferred from accumulated academic research. The company has raised $560K, and now up for next raising.
Contacts
Jongho Baek
+82-104-503-8845
jongho.baek@net-targets.com